Free Invoice Maker
Invoice sample: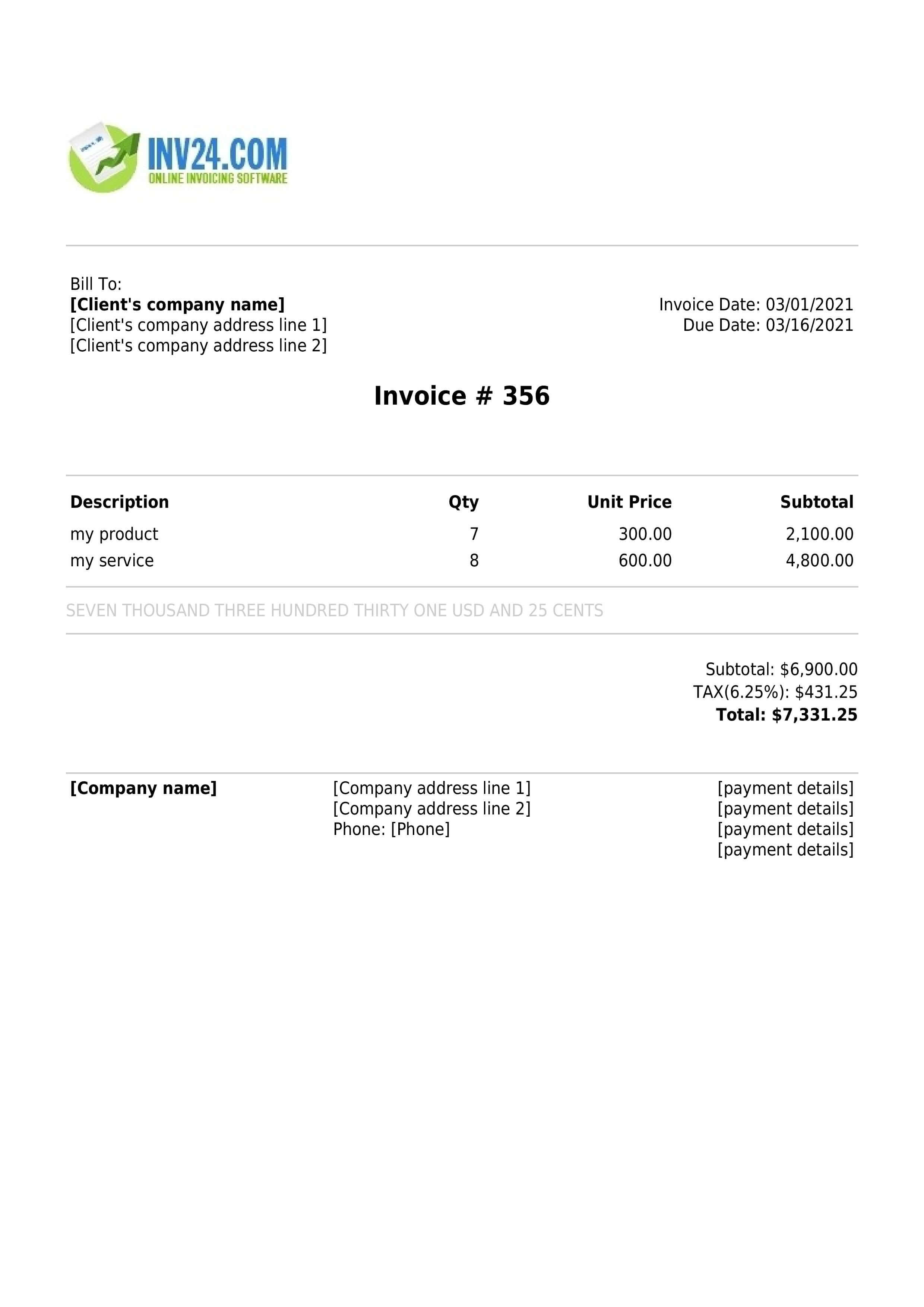 Extra features available just for registered users:
✔

Logo

✔

Invoice organizer

✔

Customer organizer

✔

Products organizer

✔

Invoices & price quotes to customer directly via email
Good to know:
What is an Invoice Maker? (All You Need to Know)
An invoice maker, also known as invoice generator, is an online tool that allows small businesses, freelancers or contractors to generate invoices speedily in a few clicks. The function of the invoice maker allows standard formatting, layout, and content with the consequence that the overall billing process is performed efficiently and quickly.
This type of software offers many types of invoices that can be selected depending on the accounting theme of the business. The sole purpose of the invoice maker is to speed up and standardize the invoicing functions. However, invoice maker is distinct from invoicing software. The difference between the two can be highlighted by the following table:
| | |
| --- | --- |
| Invoicing software (Try it free) | Invoice maker |
| Invoicing software comes with in-depth statistics and integrated operational modules. Hence, the users can see analytics that will assist in business understanding and decision making. | Invoice maker does not contain statistics and integrated operational modules. This software is designed to just generate the invoice. |
| Invoicing software comes with the ability to store customer-related information (database). Information like customer name and address can be fetched at the time of generating invoices. | Invoice maker does not have the ability to store customer data. This means that you will need to maintain a manual sheet for the information related to the customer. |
| The recurring invoices can be sent using invoicing software. You can mark an invoice as recurring for daily, weekly, monthly, or yearly, and even some customized days can be selected. | The invoice maker does not have the ability to send recurring invoices. On each occasion that an invoice is required to be sent, the invoice will need to be entered manually. |
| The invoicing software has an inventory module. This means that you can manage and maintain inventory data with sales monitoring. For instance, if you generate an invoice for 2 units of product A, the software will automatically decrease the inventory data for product A. | The invoice maker does not have inventory modules. You will need to manually update the inventory record after every sale. This could prove to be time-consuming. |
| The invoicing software comes with the ability to store data in a reusable format. The invoices can be generated, sent, and stored in the cloud-based operating system. | The invoice maker does not store data in a re-useable format. So, every time you generate an invoice, there is a need to look at formatting. In other words, the function of this software is limited to generating an invoice in PDF or Excel format. |
| The invoicing software is backed by a cloud-based data server. It enables you to save operational data. | The invoice maker does not make use of a cloud-based server. |
Invoicing software is sophisticated enough with the ability to help business have operational modules such as analytics and decision making. This is different to the invoice maker as the invoice maker is limited to only generating invoices in an Excel or a PDF format. It is important to note that both these softwares are useful resources for the business and it is the business that will need to assess the usage compatibility before selecting between the two.
Following will be a discussion about which businesses should opt for invoicing software and which should choose invoice maker.
Which Businesses Should Consider Using Invoice Maker?
Invoice maker is suitable for freelancers and SMEs that only general a few invoices in a given month. The reason being, that the process to generate invoices with this software is comparatively slower. There is also the need to calculate the cost in terms of the time spent sending an invoice and accounting for it. You will also need to manually adjust inventory and other items once sales have been recorded. On the other hand, invoice software is much quicker, with a cost of $9.95 per month. There will be a need to consider and compare the costs with the benefits and proceed with the logical choice.
Which Businesses Should Consider Using Invoicing Software?
Invoice software is organized and performs functions quickly while being inclusive of different functional modules. These modules are integrated and leads to higher efficiency of business operations. For instance, if you record sales, the inventory model is automatically updated. This invoice software would be ideal for businesses that send multiple invoices on a daily basis. It is also suitable for a business with recurring revenue. Take the example of a business dealing with investment property. In this type of industry, the business needs to collect rental income from the same tenants and at the same specific date. Setting the recurring invoices using this software will lead to speed of collection and overall, a higher business efficiency.
The choice between the two different software is dependant on your needs. If in your daily business, you intend to perform different operational functions using the software, then it is logical to opt for invoice software. However, if the intention is to use a software only limited to sending invoices, then invoice maker is a wiser choice.
If your decision is to opt for invoice maker, the following are some factors which need to be considered.
How to Choose the Best Invoice Maker
There are multiple factors that need to be considered before selecting invoice maker. These factors include, simplicity (ease of use), the ability to generate different documents such as proforma invoices, quotes, debit or credit notes, mobile usability and if it can be used on both PC and Mac. Following will be a discussion of the related details:
Simplicity

This is where an invoice maker comes in handy. It is easy to just enter data each time that you need to generate the invoice. The result is that this software is easy to use and invoicing time can be reduced as much as possible.

Ability to generate documents

The invoice maker is capable of producing other similar business documents like proforma invoices, debit or credit notes and more. In a small business, there may not be a frequent need of these documents, however, to avoid a potential problem, if you need to obtain these documents, it is useful to have the ability to produce them if needed.
Similarly, the software should be able to support all different operating systems including Mac, mobile and PC.
The most advantageous quality about invoice maker is that is free. Despite there being no cost, the features may be limited.
In contrast, invoicing software comes with sophisticated functions and integrated modules. Some of these functional modules will be discussed as follows:
Invoicing module

This module is capable of sending invoices, adjusting receivables balances, sending reminders, price quotes as well as debit and credit notes.

Customer management module

This is one of the most important modules is capable of managing customers.

Inventory management module

In this module, managing inventory and provisions for obsolete inventory can be performed.

Recurring invoicing module

This module has recurring invoicing management capability, the ability to automatically create and deliver invoices to your customers on monthly or yearly basis.
Conclusion
Invoice maker is a free tool that is generally used by freelancers and small businesses to generate invoices. This software does not store invoices in reusable formats and there are no advanced modules. There is no ability to produce recurring invoices, no customer base, no invoice module or any other advanced features. It is limited to generating invoices in Excel or PDF format.
If a business is contemplating whether to choose an invoice software or invoice maker, the main factor to consider is whether your usage is complex and advanced. If so, then it is advisable to choose the invoicing software. This software enables the the billing process to be quick and streamlined as functional modules are integrated and leads to operational efficiency. There is however, a need to incur a cost of $9.95 per month to use this software.
If a business is leaning towards choosing the invoice maker, the decision will depend on the fact that there is ease of use and also has the ability to produce other documents such as proforma invoices, quotations, estimates, debit notes and credit notes.
Frequently Asked Questions
What is a PDF invoice maker?
This is software that generates invoices in a PDF format. The benefit about sending PDF files, is that it is instantly ready to be sent via an email attachment.
What is an Excel invoice maker software?
This is an invoice maker that produces invoices in Excel. The main benefit of an invoice in Excel format is that it can be modified according to your needs. However, as a side note, an invoice sent by PDF format leaves more of a good impression than an Excel invoice.
Who should use invoice maker?
Invoice maker would be ideally used by freelancers and small businesses that only generate a few invoices in a specific period of time. This is due to the fact that these systems are relatively slower and requires energy. If there is a need to frequently send invoices in the line of business, then it is more beneficial to use invoice software.
Is invoice maker free?
Invoice maker is free, yet the disadvantage is that it should only be beneficially used for small businesses that only send out a few invoices in a given period. It should not be selected to be used if you would like to access advanced and integrated accounting modules. Instead, invoice software should be chosen, as it deals with advanced functions such as inventory, customer management, recurring invoices and reporting.
How to Issue Invoice for a Company
As a business owner, it is necessary for you to keep track of the services or products you render to your client. This means noting down the price, quantity, method of payment and other such details.
Using invoices are the perfect way to have all essential details of the transaction between your company and your client.
These invoices are also helpful for when you are writing your financial report, making audits, filing for tax returns or just generally taking stock of how much your business has grown. In addition, they are transactional proofs for both you and your client.
Issuing an invoice involves the following steps:
Select an invoice template*
Choosing the right invoice template depends on what services you are offering or what products you are selling. It is advisable to pick the template that fits your business theme/ brand identity, in terms of color, font style and font size.
An aesthetically pleasing and professionally appearing invoice is highly likely to help in boosting your company's image. Also, it should be clear from the set up that it is an invoice when your customers receive it. This means stay clear of unnecessary or excessive appearing templates.
Add your company logo and tagline to the invoice as well. Do not crowd your invoice with too many details. Keep it straightforward, precise and genuine.
Add products or services
Fill in the products or services you and the client have agreed to in the spaces reserved for that on the invoice. If need be, add short descriptions of your services/products, just enough to let your clients know what they're paying for.
Ensure that the details of what you're offering are correct to prevent queries from your clients or unnecessary stress. Incorrect detailing of your services or products could lead to delayed payment, frayed relationship with clients and overall hindering of your business.
Include important details (your company details, payment details, and client's details)
Both your company details and the client's details should be clearly spelt out on the invoice. The agreed terms of your transaction should also be correctly filled in the invoice.
Here is a list of what should be on the invoice:
Your client's company details and address
Your registered company details, address and contact information
Methods of Payment
Invoice date
Payment due date
Total cost of the service/products delivered plus tax. If any discount was offered, note it down as well.
Register an account
Our invoicing software has all the needed invoicing requirements you need. Our invoice templates are professionally done and carefully made to make your invoicing smooth and easy. We provide flexible, smart and efficient invoicing services through our software. All you need to do is sign up for free and let us handle your invoices today.
*The option is available just for registered users.